EIFS Inspector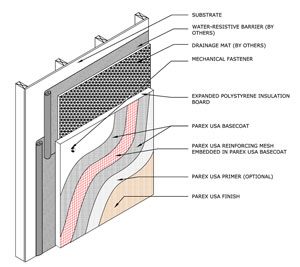 Here at Cliff Kapson Consulting, LTD., we specialize in commercial and residential building inspections. Our primary focus is the exterior of homes and buildings. This includes exterior building envelopes or claddings such as EIFS (Dryvit), stone, stucco, brick, and composite board siding. We have served a variety of clients including individual homeowners to large corporations. Our consulting and EIFS inspection services are available nationwide.
Call 888-304-3437 today to learn more about our consulting and inspection services or if you are in need of an EIFS inspector. You can also get in touch with us by filling out the easy to use the contact form located on this page and one of our experienced associates will return your inquiry as soon as possible.
Accomplished EIFS Inspector
At Cliff Kapson Consulting, we take great pride in providing the most comprehensive EIFS inspections and reports available anywhere. After an inspection is conducted, we provide our clients with thorough information to help them make the most informed decisions, get support if needed, or pursue any and all options such as corrections and if necessary, legal action.
One of the more common materials we inspect is Exterior Insulation and Finish Systems (EIFS). It was developed in the 1950s and you can see a variety of buildings utilizing this exterior material including hotels, office buildings, strip malls, and residential properties. All of the major manufacturers of EIFS recommend having regular EIFS inspections and maintenance. When it comes to EIFS, visual inspections are not always enough and should also be accompanied by thorough inspections from a qualified EIFS inspector.
Nationwide EIFS Inspector
For more information on our EIFS inspection and consulting services or if you have any questions about our inspection process, give us a call today at 888-304-3437. Or simply fill out the contact form on this page and we will respond shortly.
"*" indicates required fields